Sacramento Pool Table Installation Experts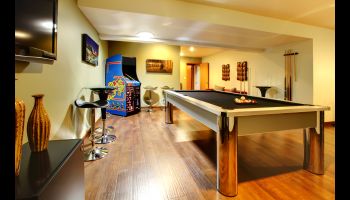 Installing a pool table often takes a lot more work than homeowners anticipate. Most likely, the pool table will need to be broken down and transported in parts, then set up once its reaches its location. The pool table installation is very important — it's the initial set-up for every game you'll play on your table, so it's important that it's performed by a professional you can trust. At The Pool Table Pros, we'll be able to install your pool table quickly and professionally, guaranteeing that it's balanced and leveled, and that it isn't damaged during transportation.
Our Sacramento pool table experts can provide you with the highest quality workmanship possible no matter what kinds of services you need from us. We have extensive experience working with pool tables of all kinds, and we'll ready and eager to ensure that your pool table is in great shape.
Commercial and Residential Installations
Our professionals have worked with home and business owners throughout Sacramento and the surrounding areas, so whether you're adding a new pool table to your basement or having several installed in a bowling alley or arcade, our professionals will be ready and eager to tackle the job. We have the skills and experience to properly install your new pool tables and ensure that they're totally ready for great game-play.
Our Pool Table Installation Services Include:
Pool Table Delivery
Pool Table Set-Up
Home Pool Table Installation
Commercial Pool Table Installation
Felt, Pocket, and Slate Installation
Pool Table Delivery and Set-Up
When you're having a pool table installed, our professionals will be able to guarantee on-time delivery and a prompt, professional set-up. Before we consider any pool table installation complete, we'll make sure that it's perfectly balanced and leveled so that games will be as accurate and fun as possible. Our pool table installation come with a satisfaction guarantee, and we'll make sure that you're completely happy with the new set-up before we consider our work complete.
Felt, Pocket, and Slate Installation
Our pool table experts will ensure that every part of your new pool table is perfectly installed. We'll guarantee that the felt, pockets, and slate are all in great condition before our work is done. We can also provide you new felt, pockets, or slate if necessary for any pool tables.
If you're looking for pool table installation in Sacramento, call The Pool Table Pros at 916-206-4649, or fill out our online request form.