Sacramento New Felt and Re-Felting Experts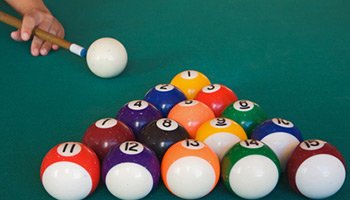 Great felt can make a huge difference in the quality of your pool table and, in turn, the quality of your games. Over time, felt can become worn, or it might be torn or otherwise damaged, and it's extremely important that you have new felt installed. Re-felting a pool table will maintain the table's quality, and new felt can make your games much more enjoyable and your shots much more accurate.
At The Pool Table Pros, our professional Sacramento pool table experts are dedicated to helping our clients keep every part of their pool tables in the best condition possible. If you need new felt or re-felting services for your pool table, we'll be able to take care of every aspect of the job. We'll work with you to choose the perfect felt for your table, and we'll provide you with the highest quality installation possible. All of our work comes with a 100% satisfaction guarantee, and we always strive to provide the best customer service possible.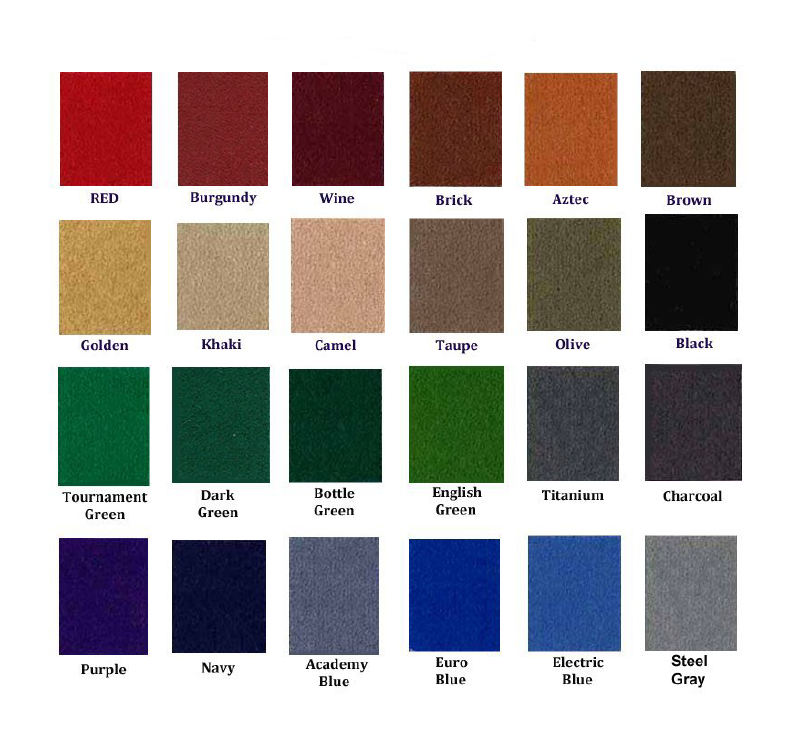 Custom Felt for Your Table
We offer a wide array of custom felt styles and colors, and our professionals can work with you directly to select the perfect felt for your pool table. We have high grade felts (Tournament Grade and Teflon Grade) available, and we can guarantee that we'll find the perfect felt for your table and your playing style. Our experts have worked with felts and tables of all kinds, and we'll be able to guarantee your complete satisfaction with our service and products.
How to Measure Your Pool Table Felt Size
Use a measuring tape to find the width of your pool table from the tip of the bumper on side to the tip of the bumper on the other side.

Your result should be one of the following:

39" (7-foot table)
44" (8-foot professional table)
46" (8-foot professional table)
50" (9-ft table)

Before you request new felt, make sure you have your pool table correctly sized to expedite the installation process.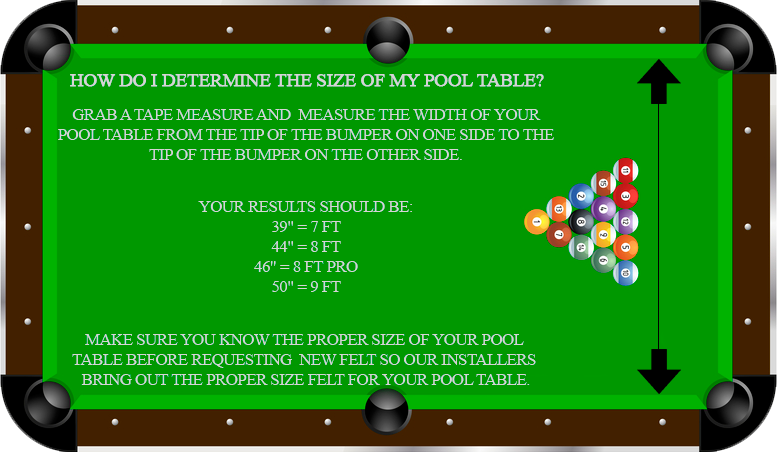 Woolen vs. Worsted Pool Table Felt
When you're choosing the felt for your Sacramento home's pool table, the two types of felt you should be most aware of are woolen and worsted.
Woolen felt is the more common of the two. It's usualy thick and heavy, comprised of around 60% wool, and has that familiar "felt" feeling. Balls will roll more slowly on woolen cloth because of the tiny little "fuzzy bits", so it's mostly used is casual settings, like bars and aracdes.
Worsted felt is what's used in professional tournaments, and it's what you'll find in more up-scale billiard rooms. This isn't actually a felt at all, but a woven cloth. It's also referred to as "speed cloth".
If you're a casual player, woolen felt will work just fine, and it will be less expensive. If you're a serious player or a very discerning consumer, worsted might be your choice.
If you're looking for felt installation or re-felting services in Sacramento, call The Pool Table Pros at 916-206-4649, or fill out our online request form.