New Bumper Installation Services in Sacramento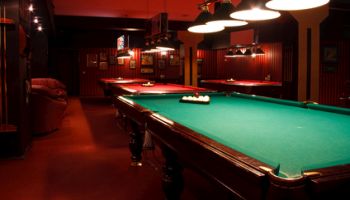 Cushion rubber bumpers may become detached from the rail due to misuse, or it might wear down and become ineffective due to its age. Bumpers play a huge role in the quality of any pool table, and if your bumpers aren't in great condition, every game you play will suffer. At The Pool Table Pros, we work hard to help every one of our clients keep their pool tables in great shape, and we'll be able to help you choose the perfect bumpers for your table and install them perfectly.
Our Sacramento pool table experts will work with you to select the bumpers for your table, and we'll make sure that you're totally satisfied with the new installation. Our only goal is to help you keep your table in great shape so that every game is as fun and accurate as possible, and we'll be looking forward to assisting you with this project.
Give us a call today to schedule your new bumper installation, and our professionals will be looking forward to assisting you.
Bumper Installation and Re-Felting
Typically, new bumper installations go hand-in-hand with re-felting. When we're re-felting a pool table, we'll often suggest adding new bumpers as well, since we'll already have the felt removed from the table. Likewise, our professionals Sacramento pool table experts will need to remove at least some felt in order to install new bumpers, so this is probably a good time to consider adding new felt to your table.
If you've had your felt replaced recently or if the felt is still in good condition, our experts can work to try to save it during the bumper installation process.
Thorough Bumper Installations for Quality Game-Play
Our Sacramento pool table experts will begin every bumper replacement or installation by making sure that the table's rails are tightly mounted to the table. If the rails are too loose, the table will play like it's "dead" (a term used to describe the lack of bounce-effect that occurs when the bumpers are worn). If the rails are too tight, the ball will "thud" against the rails, which, again, means there wont' be enough bounce.
When we're installing new bumpers, we'll make sure that every part of your table is ready for great game-play.
If you're looking for new bumper installation and replacement services in Sacramento, call The Pool Table Pros at 916-206-4649, or fill out our online request form.