Trusted Roseville Pool Table Company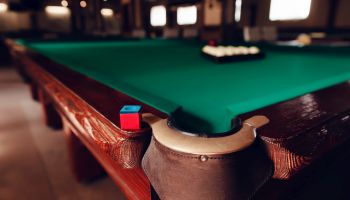 Whether you're just playing around with friends or you're a serious billiards player, you can always rely on the professional Roseville pool table experts at The Pool Table Pros to provide you with any services you might need to keep your pool table in excellent condition. We can help you install a new pool table, repair any problems with your pool table, or provide you with any number of pool table accessories you need. We'll always be ready to provide you with high quality service, and we'll make sure that your pool table is ready for some serious fun.
Your pool table goes through a tremendous amount of wear-and-tear, whether you're a hobbyist or a pro, and you need to keep it in great shape so that every game you play can be as accurate and fun as possible. Our experts can provide you with high quality workmanship when you need service of any kind for your pool table, and we'll always guarantee your satisfaction with our work.
Give our Sacramento pool table company a call today to ask us any questions you have about our services, or to schedule your appointment, and we'll be looking forward to assisting you.
Pool Table Installation in Roseville
It's not uncommon for people to underestimate everything that's entailed in the job of installing a new pool table, and it often requires more work than people plan on. If the installation isn't performed by a professional, it can take a tremendous amount of work, and there's a good chance that the pool table may be damaged, or that it won't perform optimally during game-play. Our professional Roseville pool table experts can complete any pool table relocation or installation promptly and professionally, and we'll be able to guarantee that it's level, balanced, and in excellent condition.
Roseville Pool Table Repairs
Your pool table could develop problems at any time, especially if you're playing on it regularly. The felt can be damaged, the bumpers could start to give, or the table could lose its balance. Our Roseville pool table experts can identify the root cause of the problems that your having with your pool table and provide you with the high quality, thorough, and accurate repairs.
If you're looking for a pool table expert in Roseville, call The Pool Table Pros at 916-206-4649, or fill out our online request form.