Sacramento Balance and Leveling Professionals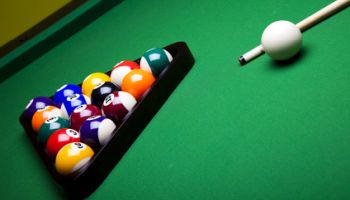 If your pool table isn't balanced and totally leveled, then every game you play will be inaccurate at best, and unfair (and unenjoyable) at worst. At The Pool Table Pros, it's our goal to help every one of our clients keep their pool tables in the best condition possible, and we offer balancing and leveling services to help guarantee that every game can be as accurate as possible.
Our Sacramento pool table experts have extensive experience working with all kinds of pool tables, so we'll be able to guarantee the most accurate leveling and balancing services possible. We use professional equipment to measure the proper levels, and we'll be able to get the job done quickly and professionally. We can provide balance and leveling services to both homeowners and business owners, and these services come standard with every pool table installation that we perform.
Call us today to schedule your balance and leveling services, and we'll be looking forward to assisting you.
Professional Leveling Services for Accurate Play
There's no way to have a great game of pool without a perfectly leveled pool table. Even a slightly unbalanced and off-level table will ruin every shot of the game, so it's important that you have high quality leveling and balancing services performed by a professional you can trust. Our Sacramento pool table experts use professional-grade tools and provide high quality workmanship at every job we perform to ensure that our services are as accurate as posisble.
When you're interested in guaranteeing the most fair and accurate game-play possible, you can rely on the experts at The Pool Table Pros.
Our Balance and Leveling Services Include:
Leveling Pool Tables
Pool Table Balancing
Surface Leveling
Why Choose Us for You Pool Table Balance and Leveling Services?
The Pool Table Pros has a team of experts who are dedicated to providing great pool table services to each of our clients. When you hire us for pool table balancing and leveling services, we'll work hard to provide you with quick, thorough, and accurate service. We'll guarantee your complete satisfaction with the work that we provide, and we'll leave your pool table in the best condition possible.
If you're looking for pool table balance and leveling services in Sacramento, call The Pool Table Pros at 916-206-4649, or fill out our online request form.