5 Things You Don't Want To Do To Your New Pool Table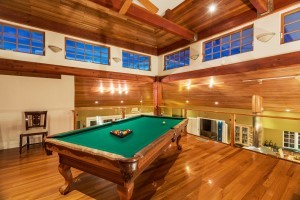 Yay, you finally got a new pool table for the family and everyone can't wait to try it out! Don't be too hasty! It would be a shame to tear the felt or scratch the wood right off the bat. There should be some ground rules set to protect your new investment and to avoid a pool table repair service call.
To help you avoid a Pool Table Repair Services expense, here are 5 things you don't want to do to your new pool table.
No Pets Allowed On The Pool Table!
If you have pets in the household, the first rule to set is "No Pets Allowed on the Pool Table." We know you love your pets and they may be used to jumping up on you or the furniture, but their claws can really do a number on that nice, beautiful felt and wood. If your pets do cause damage, then call a local pool table company for pool table repair services.
Go one step further and make it clear that the kids in the family or visiting children aren't allow up there too!
Don't Let People Set Drinks or Food on the Pool Table
No food or drinks should be allowed on the new pool table because it could cause staining on the felt if something spills.
Moving Your Pool Table Yourself
Of course, a pool table won't fit through a doorway, so breaking it down and moving it to a new location and then reassembling it is necessary. Not only is this a ton of work, your new pool table weighs a ton and will take several strong people to get the job done. Plus, everything needs to be wrapped and the slate crated.
If it wasn't placed in the most ideal location during the set up and you want to move it, it's best to get help from a Pool Table Moving Service who should be able to get it all done very quickly.
Get Rid of the Bad Pool Cues
Do you have old pool cues from the previous table or were you tempted to go the cheaper route of buying them from a yard sale? Think again about using them.
A warped pool cue is enough to make the shot misfire straight into the pool table felt. Worn cue tips can also cause accidents. If the felt tears, you'll be calling a Pool Table Repair Service for sure.
Avoid Using Your Pool Table for Anything Else
While it's tempting because of the large surface area, using your pool table for anything other than playing pool can ruin the felt or damage other parts. It's just not worth the risk.
When It Is Necessary to Use Your Pool Table for Something Else, Don't Forget To Protect It
Sometimes you can't get around using the pool table for something else other than playing pool. If this is the case, don't forget to protect it first or you'll be dealing with a repair bill.
Lay a large waterproof cover over the top of the pool table first and then place a stiff board the size of the pool table or a dense cardboard on top of that.
Use a large waterproof cover so that it overhangs to protect sides of your pool table as well. You don't want to damage the pockets or the ball return mechanism.
If you're looking for Sacramento pool table repair services, call The Pool Table Pros at 916-206-4649, or fill out our online request form.