3 Easy Ways to Keep Your Pool Table's Felt Looking and Functioning Its Best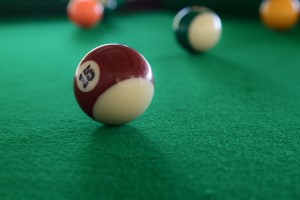 Since your pool table's cloth will endure more use and wear than any other part of your pool table, you'll need to perform more regular maintenance on it. While the very idea of pool table maintenance might seem impossible to do yourself (at least well), you don't need to stress yourself over it.
After all, maintaining your pool table felt is quite east, and most of it involves tools that you already have lying around your home. To keep your pool table's felt in the best condition, be sure to follow these maintenance tips when it's in need of a little TLC:
Brush the Cloth
For about every 10 hours of playtime, you need to brush down your pool table's felt with a nylon or horsehair brush to remove excess material. To get an effective brushing that won't damage your felt, start at the head of the pool table, brush in only one direction, and apply only as much pressure as is required to make contact with the felt.
Vacuuming Is Also Effective
A vacuuming once every few months is a great supplement to your routine brushings, as a vacuuming will remove the stubborn debris that your brush can't reach. An effective yet safe vacuuming also involves going in one direction, and it requires that you always use a brush attachment, as direct vacuuming can stretch the felt.
Iron Out Stubborn Wrinkles
Over time, your pool table's felt will stretch and weaken, and this condition can result in the development of wrinkles that can severely affect your playing. Luckily, you can remove your felt's wrinkles with a gentle ironing. To protect your felt while getting a thorough ironing, go in one direction, as always, using a dry ironing technique over a cloth.
If you're looking for refelting for your pool table in Sacramento, call The Pool Table Pros at 916-206-4649, or fill out our online request form.